About Locklear's Pressure Washing - A Pressure Washer Dedicated To Serving The Community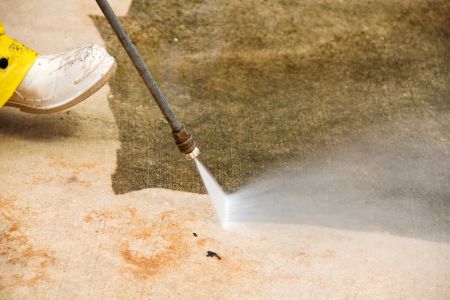 Locklear's Pressure Washing is committed to providing the Concord area the best in customer service and quality pressure washing that leaves our customers satisfied. We use products that are strong enough to tackle the build-up of mold, mildew, dirt, and grime but are also gentle on your home's exterior and the environment. If you're thinking of hiring a pressure washer for your home, think of Locklear's Pressure Washing!
Don't waste another weekend knocking off chores on your to-do list. We do the dirty work, so you don't have to; we understand your time is valuable and should be spent the way you want. With Locklear's Pressure Washing, you can toss that list and rest easy knowing your home is in the hands of professionals.
At Locklear's Pressure Washing, we are more than just a pressure washing company. We also offer complete exterior cleaning for your home! Some of the other services we offer are:
House washing
Roof cleaning
Gutter cleaning
Sidewalk cleaning
Window cleaning
Fence washing
Deck cleaning
You don't want to hire just any pressure washer in Concord; you want the best. We are the leading company in pressure washing in Concord, and when you hire us, your satisfaction is guaranteed. You can have peace of mind knowing our pressure washer experts will get the job done and get it done right.
Some people may think they can tackle the job of pressure washing their home themselves, but in reality, it takes skill and experience to properly clean your home. Our pressure washer experts are trained and knowledgeable and will assess the best treatment for your home. An inexperienced pressure washer service or choosing to do it yourself can cause damage and fail to clean your home, costing you more time and money in the long run.
When done incorrectly, pressure washing can damage your home's exterior, and you can miss certain spots that need a good cleaning. At the same time, choosing not to pressure wash your home can also have consequences. Dirt and grime can build up over time and cause staining and blemishes, while mold and mildew can eat away at your foundation, causing structural damage to your property.
These all amount to costly repairs that you don't need. By hiring Locklear's Pressure Washing professionals, you not only save time from cleaning, but you save money too! Professional pressure washing removes these contaminants and protects your home from any damage or unsightly stains.
Why Should You Hire Locklear's Pressure Washing?
Here are just some of the things we promise:
High-grade cleaning service
Quality results
Exceptional customer service
Affordable pricing
Your satisfaction is guaranteed
Cleaning Articles & Tips
Get Your Home Clean From The Top Down!

Are you noticing dark spots and streaks on your roof? Those stains are not just a sign of natural discoloration; they are signs of moss, mold, and algae. Removing these stains from your roof is an es […]

DIY Pressure Washing Can Do More Harm Than Good

These days, many people spend more time at home and sprucing up their living space in their free time. Homeowners are also being introduced to the benefits of pressure washing and trying to tackle th […]
GET A FREE QUOTE TODAY FROM A CONCORD PRESSURE WASHING PROFESSIONAL!