Deck Washing To Keep Your Entertaining Space Looking Its Best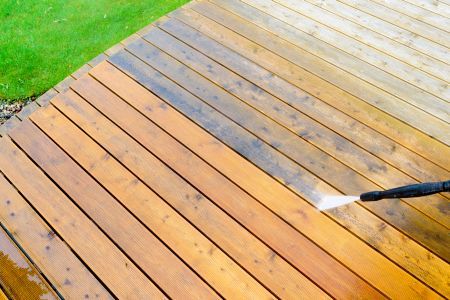 Has your deck become worn, dull, even worse, dangerous? Your deck is an extension of your Concord home and should be cleaned regularly with Locklear's Pressure Washing deck washing service. Regular deck washing can protect your deck from splintering, moss and mildew build-up, and moisture causing decay.
Your deck was meant to be enjoyed by family, friends, and neighbors for gatherings, parties, barbeques, and relaxation. When your deck starts to look faded and old, it can be easy to move your family hang out somewhere else and avoid using the outdoor space. Having an overhaul and rebuild of your deck can cost you thousands of unwanted expenses, but with deck washing, you can save your money to be spent elsewhere and get your favorite hangout spot back.
When you let mold and mildew grow on your outdoor surfaces, these organic contaminants can become wet and slippery and become a falling hazard. Deck washing safely removes the grime and revitalizes your deck, making it look as good as the day you installed it! Deck washing should also be done before you stain or paint your deck to ensure the coat adheres to the wood.
With Locklear's Pressure Washing Deck Washing Service, You'll Have A New Deck In No Time!
To ensure your Concord home gets quality results, our deck washing team is equipped with state-of-the-art equipment and commercial-grade detergents; we guarantee your deck will be looking its best! Our pressure washing experts will examine your deck and determine the right amount of pressure that will effectively remove all build-up and stains but be safe enough not to cause splintering or damage. When they are finished, your deck will be looking like new again, and you can enjoy your favorite relaxation spot again!
You should not overlook pressure washing your deck before staining and painting. This will ensure no underlying stains or debris that can cause the paint to peel and chip, forcing you to apply another coat of paint or pay for someone else to come back and finish the job. Washing your deck beforehand will save you the money and trouble of not having your deck prepped for staining or a fresh coat of paint.
Locklear's Pressure Washing is comprised of experts and well-trained technicians, which is why we are the leaders in pressure washing in the Concord area. Our team does more than deck washing; consider adding our house washing service to give your home a clean that your neighbors will envy. You won't find better results anywhere else, call us and see what we can do for you today!
Cleaning Articles & Tips
Get Your Home Clean From The Top Down!

Are you noticing dark spots and streaks on your roof? Those stains are not just a sign of natural discoloration; they are signs of moss, mold, and algae. Removing these stains from your roof is an es […]

DIY Pressure Washing Can Do More Harm Than Good

These days, many people spend more time at home and sprucing up their living space in their free time. Homeowners are also being introduced to the benefits of pressure washing and trying to tackle th […]
GET A FREE QUOTE TODAY FROM A CONCORD PRESSURE WASHING PROFESSIONAL!