House Washing Revitalizes Your Home's Exterior Surfaces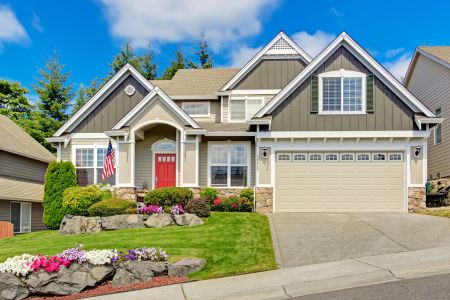 Has your home seen better days, or do you find yourself wishing for that same clean as when you first moved in? With Locklear's Pressure Washing, your Concord home will look as good as new with our house washing service. We remove signs of wear and tear that make a mess of your home's exterior, leaving you with a clean home your whole neighborhood will admire.
We Bring Curb Appeal To Our Customers
Whether you are gearing up for a spring cleaning overhaul or putting your home on the market, house washing is an excellent way to prep and revitalize your home's exterior. House washing is a safe and effective way to remove dirt and grime build-up, mold, mildew, cobwebs, and unwanted insect nests from your siding, windows, and hard-to-reach spots. To get your home show-ready, you need the best house washing experts in Concord.
Locklear's Pressure Washing is the leading company in pressure washing for Concord. Our technicians are well versed in handling pressure washing equipment and understanding the different levels of water pressure and various detergents for your home's specific needs. Our house washing experts will assess your home and offer a pressure washing solution that will give your home a first-rate cleaning.
In addition to house washing, our technicians can also offer window cleaning for a complete exterior wash. Your window panes can attract dirt and grime, our window cleaning service will remove those stains and help improve your view. We guarantee a streak-free shine that will allow more natural light to brighten up your home's interior, as well as allow heat to be better distributed throughout your home, saving you money on those energy bills!
Clean windows won't just save you on energy and lighting bills, but they can improve the ambiance of your home with natural lighting. It will also improve the look of your home from every angle. Our window cleaning service will protect your windows from permanent stains and keep those streaks at bay for a longer-lasting clean.
There are many benefits to pressure washing your home. Locklear's Pressure Washing offers various cleaning services that are guaranteed to make your home or business stand out and look its best. When you call on our team, you can be sure you are getting the best clean in Concord!
Cleaning Articles & Tips
Get Your Home Clean From The Top Down!

Are you noticing dark spots and streaks on your roof? Those stains are not just a sign of natural discoloration; they are signs of moss, mold, and algae. Removing these stains from your roof is an es […]

DIY Pressure Washing Can Do More Harm Than Good

These days, many people spend more time at home and sprucing up their living space in their free time. Homeowners are also being introduced to the benefits of pressure washing and trying to tackle th […]
GET A FREE QUOTE TODAY FROM A CONCORD PRESSURE WASHING PROFESSIONAL!