Mint Hill Relies On Locklear's Pressure Washing For Pressure Washing Services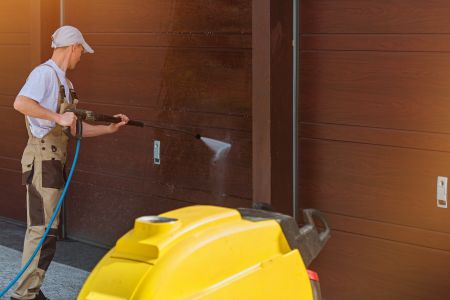 Every home in Mint Hill can benefit from routine pressure washing. Your property is exposed to ultraviolet rays, dirt, mold, insects, and moss. These contaminants cause buildup, embedded stains, and rot to happen to your structure.
These unpleasant consequences will tarnish the look of your home and are expensive to fix. The benefits of pressure washing your Mint Hill home are immeasurable, such as protection from damage, increased curb appeal, and money-saving. Pressure washing your home is also an excellent way to prep your home for painting and staining!
If you've painted over a dirty wall or section of siding, you'll know how frustrating it is to spend more time redoing the job. Pressure washing your Mint Hill home before painting effectively removes these stains, allowing for a clean coat of paint that won't require further touch-ups. Pressure washing also removes chips and splinters that can cause premature peeling, allowing the paint to adhere better to the surface.
Our Mint Hill House Washing Service Is More Than Just A Surface Clean
One of the first and foremost reasons to perform routine house washing is to improve your curb appeal and the perceived value of your home. Even if your home is in great shape, a dirty exterior can negatively impact people visiting or just walking past your home. This effect can be even worse for Mint Hill homeowners placing their homes on the market.
A dirty exterior can lead potential buyers to think that your home will need extensive repairs and replacements when all it needs is a thorough washing. Accompanying driveway washing with house washing will ensure your whole exterior is spotless and restored to its natural beauty. When you need to get your home show-ready or want to impress your neighbors, pressure washing your Mint Hill home will go a long way in making your home look great!
Routine Roof Cleaning Will Keep The Roof On Your Mint Hill Home Looking And Working Like New
Roof cleaning does more than just make your roof aesthetically pleasing. Your roof is subject to significant damage caused by moss, mold, and lichen without routine cleaning. Your home not only looks unkempt and dirty, but you now have damaged roof shingles that need repair.
Lichen can cause frost damage when temperatures drop; mold will break down the shingles, and moss can cause water to pool leak through. Roof cleaning will keep your roof in working order and add a layer of protection from the elements. When you invest in roof cleaning, you are investing in the life of your Mint Hill home and expanding the service life of your property for years to come.
Reviews & Testimonials on Locklear's Pressure Washing in Mint Hill, NC
There are currently no reviews or testimonials for Mint Hill, NC. Check back soon!
Cleaning Articles & Tips
Get Your Home Clean From The Top Down!

Are you noticing dark spots and streaks on your roof? Those stains are not just a sign of natural discoloration; they are signs of moss, mold, and algae. Removing these stains from your roof is an es […]

DIY Pressure Washing Can Do More Harm Than Good

These days, many people spend more time at home and sprucing up their living space in their free time. Homeowners are also being introduced to the benefits of pressure washing and trying to tackle th […]
GET A FREE QUOTE TODAY FROM A CONCORD PRESSURE WASHING PROFESSIONAL!