Finest Pressure Washing Specialists Serving Matthews, NC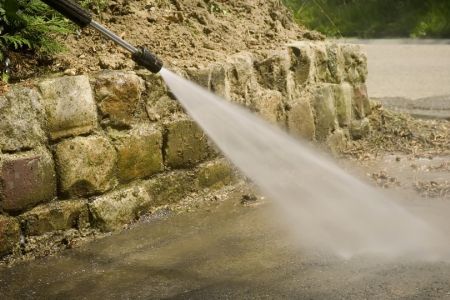 When it comes to home maintenance, pressure washing should always be on your list of things to do. The Matthews climate and weather can be harsh on your home, and the build-up from dirt and mold from these elements can have lasting negative effects on your home. Pressure washing is an effective and affordable way to ensure your home stays clean and protected from harmful mold, grime, and dirt.
At Locklear's Pressure Washing, we treat each home in Matthews as if it were our own. If you start to see dark spots and streaks along your home's exterior, don't wait to call on our pressure washing experts. Our professional house washing services can make all the difference between an economically priced cleaning and expensive repairing or replacing.
There is a reason we are #1 in pressure washing for Matthews and the surrounding area. Our technicians are experienced professionals and will always ensure your satisfaction is guaranteed. For the best in pressure washing and cleaning service, call on your trusted Matthews area for the job!
Proactive Roof Cleaning To Protect Your Matthews Home
Aside from your home's foundation, your roof is the most important part of your home. Keeping your roof in good working condition can keep you and your family safe and comfortable when inside. Having your roof routinely cleaned will extend its lifetime and save you money in the long run.
By cleaning your roof, you are doing your part to ensure your roof lasts for years to come. Removing moss, dirt, and algae growing on your roof will protect it from damage and from forcing you to pay for repairs or a replacement. Our roof cleaning service is a much more affordable option than looking for a roof replacement company in the Matthews area.
Get Your Matthews Home Entertainment Ready With House Washing
Depending on what surrounds your Matthews home, mold and pollen can settle on the surface of your home's exterior. These irritants can be troublesome for your family members, especially ones who suffer from asthma or allergies. Pressure washing your home can be beneficial to remove these allergens and protect your family's health and wellbeing.
House washing is also a great way to spruce up your home in preparation for guests. When entertaining, the inside of your home isn't the only place that should be cleaned; you want your guests to see a clean and inviting exterior too! Our house washing service will have your home looking spotless and ready to entertain family and friends all year long!
Reviews & Testimonials on Locklear's Pressure Washing in Matthews, NC
There are currently no reviews or testimonials for Matthews, NC. Check back soon!
Cleaning Articles & Tips
Get Your Home Clean From The Top Down!

Are you noticing dark spots and streaks on your roof? Those stains are not just a sign of natural discoloration; they are signs of moss, mold, and algae. Removing these stains from your roof is an es […]

DIY Pressure Washing Can Do More Harm Than Good

These days, many people spend more time at home and sprucing up their living space in their free time. Homeowners are also being introduced to the benefits of pressure washing and trying to tackle th […]
GET A FREE QUOTE TODAY FROM A CONCORD PRESSURE WASHING PROFESSIONAL!