Driveway Washing To Blast Away Dirt & Grime From Your Concrete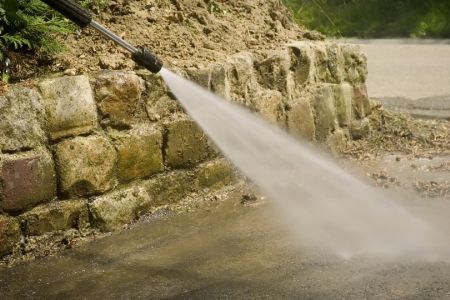 Driveways were meant to withstand a lot of wear and tear. But over time, without routine driveway washing, your Concord home could see cracks and spots on its driveway. Driveway washing is critical in ensuring the service life of your driveway and that you get the most out of your investment.
Vehicles and everyday foot traffic bring mud, oil, and dirt onto your driveway, causing stains and streaks. Heavy vehicles inevitably will cause your driveway to crack over time, where grime and rainwater will enter and expand these cracks. Driveway washing prevents stains from building up and making cracks larger, so your driveway lasts for years to come.
Our driveway washing service in Concord will have your driveway looking new again. Prolonging washing your driveway will only leave underlying problems to get worse than they should. For spotless driveway washing, you need the best Concord pressure washing company.
Damage Is Permanent, Stains Are Not! Let Us Treat Your Driveway And Give It A Fresh New Look
Pressure washing your driveway doesn't just clean your driveway; it will extend its service life and save you money from costly repairs. It can be expensive to rip up your driveway and pave a new one, but our driveway washing will preserve the life of your driveway and safeguard it from further damage.
Locklear's Pressure Washing can also round out your walkways with our sidewalk cleaning service. This is an inexpensive way to enhance the appearance of your property. Dirty concrete can depreciate the value of your home or business; our pressure washing service will blast away stains, rust, oil, and dirt, leaving your walkways spotless.
Keeping your driveway and concrete clean is not only important to extend the life of your driveway but to protect your family's health. Dirt and pollen can be tracked into your home and make your family sick. Our driveway easily removes these contaminants, keeping you and your family protected from bacteria.
You and your family deserve the best in exterior cleaning. It is essential to incorporate driveway washing into your routine home maintenance to enhance your curb appeal and cleanliness of your property. When treating your home and walkways, we take great responsibility and utilize solutions that are safe for everyone involved.
We use only the best equipment and detergents to gently lift stains and grime without harming your property or raising any health concerns for your family. Your driveway will add to your curb appeal and increase the value of your home. When our professionals are done, you won't believe how good your driveway will look!
Cleaning Articles & Tips
Get Your Home Clean From The Top Down!

Are you noticing dark spots and streaks on your roof? Those stains are not just a sign of natural discoloration; they are signs of moss, mold, and algae. Removing these stains from your roof is an es […]

DIY Pressure Washing Can Do More Harm Than Good

These days, many people spend more time at home and sprucing up their living space in their free time. Homeowners are also being introduced to the benefits of pressure washing and trying to tackle th […]
GET A FREE QUOTE TODAY FROM A CONCORD PRESSURE WASHING PROFESSIONAL!