Salisbury's Leading Pressure Washing Services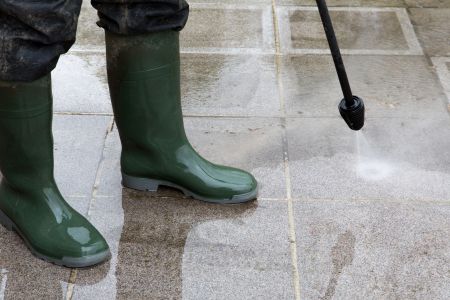 Locklear's Pressure Washing in Salisbury excels in all different types of pressure washing. We service all areas of your Salisbury home, including gutter washing, window cleaning, and deck washing, to name a few. No matter what size your next project is, we can handle all your pressure washing needs!
When you call on Locklear's Pressure Washing, your Salisbury home gets a pressure washing clean with no effort on your part! Trying to pressure wash your home yourself can be difficult, messy, and dangerous. We are a team of pressure washing experts serving the Salisbury area with our expertise and experience.
Trying to finish a pressure washing job on your own can be a hassle. The equipment can be heavy and powerful enough to damage your home or cause injury, and using the wrong kinds of detergents can also be harmful to your landscaping. Our technicians know the exact amount of pressure to apply to each surface of your home and what detergents are safest.
See Your Salisbury Home Sparkle And Shine After A Thorough House Washing!
At Locklear's Pressure Washing, our house washing service cleans and protects all areas of your home. If harmful elements are not removed periodically from your home, the beauty and value of your Salisbury home can be destroyed and reduced. We offer a reliable and safe solution to maintaining your home's appearance and improving its value.
We don't use harmful or dangerous chemicals when washing your home; we pride ourselves on being an environmentally friendly and cost-effective company. Our services will protect your home between washes and enhance the overall appearance of your property. You are also extending the life of your home's exterior, reducing the need for repair, and saving yourself money in the long run.
Your Salisbury Home Doesn't Just Need House Washing, It Needs A Roof Cleaning Too!
When you think about house washing, you may be thinking only your home's exterior needs attention, but the truth is your roof needs proper cleaning as well. Moisture damage and loose and flawed-looking shingles are just some of the problems homeowners face when they neglect to keep a clean roof. Your roof is your first layer of protection for your home and keeping it clean and in working order is essential.
Salisbury can see a lot of humidity, rain, and windy weather. When moss and lichen begin growing on your roof, moisture is attracted to the surface of your roof. Lichen can also uproot your shingles if allowed to grow between them, causing gaps and holes. You may also notice the shape of your shingles beginning to warp, causing your home to look run down and worn.
When your roof is compromised, you can expect to pay thousands in repairs. Don't let your roof's condition go beyond repair; performing routine roof cleaning will protect your roof from these problems and extend its lifespan. This means more money can be spent where you want and not on unnecessary renovations.
Reviews & Testimonials on Locklear's Pressure Washing in Salisbury, NC
There are currently no reviews or testimonials for Salisbury, NC. Check back soon!
Cleaning Articles & Tips
Get Your Home Clean From The Top Down!

Are you noticing dark spots and streaks on your roof? Those stains are not just a sign of natural discoloration; they are signs of moss, mold, and algae. Removing these stains from your roof is an es […]

DIY Pressure Washing Can Do More Harm Than Good

These days, many people spend more time at home and sprucing up their living space in their free time. Homeowners are also being introduced to the benefits of pressure washing and trying to tackle th […]
GET A FREE QUOTE TODAY FROM A CONCORD PRESSURE WASHING PROFESSIONAL!