Sidewalk Cleaning For Safer, More Visually Appealing Walkways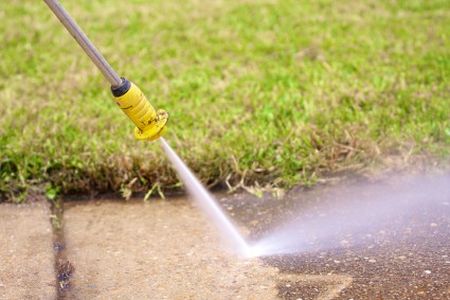 Like your driveway, your sidewalk sees a lot of foot traffic and heavy machinery. The Concord weather is also conducive for mold and fungi to grow, and while these are all avoidable with regular sidewalk cleaning, many homeowners overlook the regular upkeep of their walkways. Neglecting to pressure wash your sidewalk can have many negative consequences not just financially but also potentially on you and your family's health.
The constant use can wear on your concrete and lead to damage and unattractive blemishes. We are the most called-on company for pressure washing in Concord because we produce quality results and will keep your concrete spotless with our sidewalk cleaning service. Our pressure washing technicians will also tackle your driveway with our driveway washing service, keeping all your walkways clean and safe to walk on.
Dirt, mold, mildew, rust, oil, and fungi can all ruin the appearance of your driveway and have an impact on your health. Fungi and mold can become slippery and become a falling hazard. Mildew and pollen can get stuck underfoot and be tracked into your home, bringing allergens and other bacteria inside.
Regular use also causes cracks, and just like your driveway, dirt and moisture can get caught and further fracture your concrete. Sidewalk cleaning is an affordable and effective way to prevent these stains and imperfections from taking over your sidewalk and walkways. For the best professional sidewalk cleaning in Concord, call on Locklear's Pressure Washing!
Sidewalk cleaning will virtually remove any stain and keep cracks from growing larger. Our sidewalk cleaning service will also wash away any harmful materials and contaminants from your driveway and sidewalk. Your sidewalk will be looking brand new again in no time!
Some homeowners think it is as simple as renting equipment and washing their sidewalks themselves, but it can be dangerous when not done by a professional, and you won't get a complete clean. Our experts are trained and equipped with state-of-the-art equipment and commercial-grade detergents to give your property a complete and detailed cleaning. We guarantee you will be more than satisfied with our sidewalk cleaning service from Locklear's Pressure Washing!
Cleaning Articles & Tips
Get Your Home Clean From The Top Down!

Are you noticing dark spots and streaks on your roof? Those stains are not just a sign of natural discoloration; they are signs of moss, mold, and algae. Removing these stains from your roof is an es […]

DIY Pressure Washing Can Do More Harm Than Good

These days, many people spend more time at home and sprucing up their living space in their free time. Homeowners are also being introduced to the benefits of pressure washing and trying to tackle th […]
GET A FREE QUOTE TODAY FROM A CONCORD PRESSURE WASHING PROFESSIONAL!