Gutter Washing To Keep Your Downspouts Flowing Unobstructed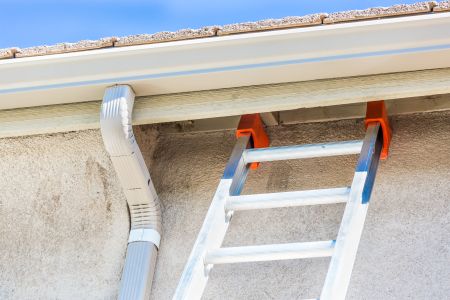 Keeping the gutters of your Concord home unobstructed is vital to your home. Overlooking gutter washing can have many negative consequences that homeowners do not think about, such as water and structural damage. Gutter washing is an affordable and easy way to keep your gutters clear and working for years to come!
Clogged gutters prevent water from draining properly off your roof, resulting in ice dams, insect and pest nests, and gutter deterioration. When this happens, your home can see water leaks and foundation damage. Clogged gutters can lead to all kinds of expensive home repairs, which can all be avoided with routine gutter washing.
Locklear's Pressure Washing Will Make Your Gutters Shine With Gutter Brightening!
Gutter washing doesn't just clean out your gutters; it can make them look brand new! If your gutters are looking worn and discolored, before you pay for an expensive replacement job, see what gutter washing can do for your home! It is an inexpensive way to restore your gutters and preserve their service life.
Our gutter washing technicians will keep the gutters of your Concord home free-flowing and save you from spending thousands of dollars on repairs! Your gutters are vital in preventing water from draining into your home, and keeping them in proper working order is critical. A simple clog can unleash a myriad of expensive damages and repairs, a homeowner's worst nightmare.
Roof cleaning is also of vital importance to ensuring your home's longevity. Like your gutters, if your roof is left untreated, can cause water damage to your property. You will be amazed at how clean your roof will look and happy to know it costs far less than replacing your roof!
If you see black streaks and stains on your roof, they are not only dirt and grime but a build-up of lichen, fungi, and moss. These invasive organisms eat away at your roof, breaking the barrier between your home and water damage. Roof cleaning can safely remove moss, lichen, and fungi, leaving you with a clean roof that will look like it was just installed yesterday!
Combining gutter cleaning with our pressure washing service ensures your home will have a comprehensive and detailed clean. As the leading team in pressure washing for Concord, our technicians are trained to handle homes of all sizes and equipped to meet all their pressure washing needs. Locklear's Pressure Washing guarantees you will have the best gutter cleaning, inside & out!
Your home is your investment and should be protected as such. Locklear's Pressure Washing has all the tools and services to keep your home protected and looking its best. Call us today to see how we can help make your home look the best it ever has.
Cleaning Articles & Tips
Get Your Home Clean From The Top Down!

Are you noticing dark spots and streaks on your roof? Those stains are not just a sign of natural discoloration; they are signs of moss, mold, and algae. Removing these stains from your roof is an es […]

DIY Pressure Washing Can Do More Harm Than Good

These days, many people spend more time at home and sprucing up their living space in their free time. Homeowners are also being introduced to the benefits of pressure washing and trying to tackle th […]
GET A FREE QUOTE TODAY FROM A CONCORD PRESSURE WASHING PROFESSIONAL!