Regular Fence Washing Keeps Your Property's Perimeter Looking Perfect All Year Long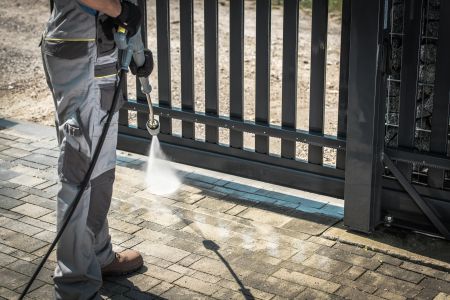 Is your once beautiful fence looking old, worn, and weathered? Your Concord home deserves better and should be looking its best, and it can start with our fence washing service. Don't let built-up dirt and grime negatively impact the look of your home; our services include:
Fence washing
House washing
Driveway washing
Gutter washing
Commercial pressure washing
Roof cleaning
Sidewalk cleaning
Window cleaning
The Look Of Your Fence Makes A Key Difference In Your Home's Appearance
Believe it or not, the look of your fence can make quite an impression on people. If you are putting your home on the market, a dirty fence can make potential buyers think they will have to replace it after moving in or that your home is not being well maintained. Fence washing is an effortless and quick way to get your home show-ready and increase its market value and curb appeal.
Whether you are a new homeowner or have lived in Concord for years, your home can benefit from fence washing. Our Concord pressure washing service will come to your home and transform your fence by giving it a proper cleaning to look new again. Let us put our experience and expertise to work for you; you won't find better service or the same quality of work anywhere else!
Your fence can accumulate lots of dirt, dust, grass stains, mold, mildew, and grime. Fence washing can remove years of built-up stains and debris, giving your yard and home a fresh new look. Being exposed to the Concord weather can be harsh on your fence, but with routine fence washing, your yard will look amazing all year round.
Pressure washing is a small detail that can have a significant impact on your home. Don't let your beautiful home have its appearance and value lowered because dirt and stains have taken over your fence; let Locklear's Pressure Washing give your yard the fence washing treatment it deserves! Our detergents are safe for your yard so that they won't harm your garden and landscaping, and it is safe for your family and pets.
Many homeowners think they can rent equipment and spend an afternoon pressure washing their homes themselves, but this is dangerous and risky. Inexperience operating the equipment can lead to injury and damage to your home and yard. Why do the dirty work when you can hire Locklear's Pressure Washing professionals to take care of all the hard work for you?
Our technicians are well-trained and experienced. We pride ourselves on providing excellent customer service and superior results. If you are a homeowner in the Concord area looking for a reputable pressure washing company, let us give you the clean home you've been dreaming of!
Cleaning Articles & Tips
Get Your Home Clean From The Top Down!

Are you noticing dark spots and streaks on your roof? Those stains are not just a sign of natural discoloration; they are signs of moss, mold, and algae. Removing these stains from your roof is an es […]

DIY Pressure Washing Can Do More Harm Than Good

These days, many people spend more time at home and sprucing up their living space in their free time. Homeowners are also being introduced to the benefits of pressure washing and trying to tackle th […]
GET A FREE QUOTE TODAY FROM A CONCORD PRESSURE WASHING PROFESSIONAL!