Harrisburg Pressure Washing Services You Can Depend On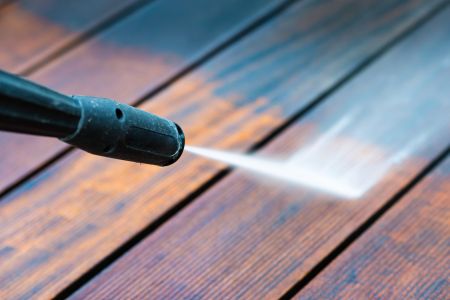 Experience your home at its finest with our expert pressure washing service in Harrisburg! We are trained specialists equipped with the latest tools and technology to effectively remove years of stains and buildup from your Harrisburg home. Enhance your property with our pressure washing and additional exterior services like window cleaning!
Our profession is not about pressure washing solely for results. We are committed to providing you and your family a clean and safe living space that you can be proud and excited to call home. We are dedicated to providing the Harrisburg area with superior service that you can only find at Locklear's Pressure Washing.
Don't Replace Your Roof- Restore It With The Best Harrisburg Area Roof Cleaning Service!
If dark streaks and black stains plague your roof, we can help! We offer a roof cleaning solution that will effectively remove mold, dirt, algae, and grime from your shingles. Our roof cleaning service will boost your curb appeal and market value while securing the long-term quality of your roof.
It is essential to give your roof a thorough cleaning to preserve the quality and life of your home. Our pressure washing business has the technique and products to make the streaks and stains disappear. When you hire Locklear's Pressure Washing for your Harrisburg home, we take years off the appearance of your home, so you are left with an exterior that looks brand new!
Wash The Years Away From Your Harrisburg Home With House Washing
Harsh elements and natural occurrences wear on your home over time. The Harrisburg climate also dictates how prone your home is to attracting mold, mildew, grime, and pollen. Without periodic maintenance, your home will attract dirt, mold, and rust, all of which can cause permanent staining if not addressed quickly.
House washing has many benefits for your home. You'll increase your curb appeal overnight, protect your family's health, prime surfaces for painting and staining, prevent damage from natural wear and tear, and increase your property value. With all these positives, there should be no reason not to consider adding pressure washing to your home's exterior care routine!
We take stain removal of your home very seriously. We are proud to be your one-stop-shop for all your pressure washing and exterior maintenance needs. See your Harrisburg home in a new light; call the pressure washing experts at Locklear's Pressure Washing today!
Reviews & Testimonials on Locklear's Pressure Washing in Harrisburg, NC
There are currently no reviews or testimonials for Harrisburg, NC. Check back soon!
Cleaning Articles & Tips
Get Your Home Clean From The Top Down!

Are you noticing dark spots and streaks on your roof? Those stains are not just a sign of natural discoloration; they are signs of moss, mold, and algae. Removing these stains from your roof is an es […]

DIY Pressure Washing Can Do More Harm Than Good

These days, many people spend more time at home and sprucing up their living space in their free time. Homeowners are also being introduced to the benefits of pressure washing and trying to tackle th […]
GET A FREE QUOTE TODAY FROM A CONCORD PRESSURE WASHING PROFESSIONAL!